AGM 2021
FEB 2021
The Alumni warmly invites all to join us in kicking off our activities for 2021 with the Annual General Meeting to be held on Saturday, 20th February 2021 at 10.00am, CHIJ Secondary (Toa Payoh).
Find out more
CHIJ Alumni Tote Bags (with printing defect)
JAN 2021
The tote bags with printing defects are available for sale.
Cost: 5 bags for $30

There are no online orders. About 300 of these limited edition bags will be sold.
Some of these errors include faded print and double images. Please feel free to examine the merchandise before buying.

Date: 30 Jan, Saturday
Time: 9am to 1230pm
Venue: CHIJ TPY Secondary.
IJHCC - Children's Day celebration
OCT 2020
In view of Covid-19, CHIJ Alumni was unable to organise the yearly activity in conjunction with the IJHCC (Infant Jesus Homes & Children's Centres). In place of this, the Alumni sponsored Popular Bookstore gift vouchers for the children at IJHCC as part of their Children's Day celebration in 2020. We look forward to organising the yearly events once the Covid restrictions are lifted.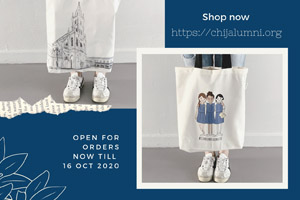 CHIJ Alumni Tote Bags
OCT 2020
The new CHIJ Alumni Tote Bags have been launched on our website! You can pre-order them from now till 16 October 2020.
Click here to order the bags now
Be a Speaker at the Virtual Career Seminar 2020
1 Sep 2020
Every year the alumni organizes a career seminar for the Secondary 4 students. It's an important time for these girls as they think about the career paths they may wish to pursuit.
Find out more
Welcome to our new CHIJ Alumni website
AUG 2020
Welcome to the refreshed website! We are pleased to offer some fresh features making it quicker and easier to stay connected with us:
- Be amongst the first to be notified of the latest events as well as pre-ordering special CHIJ memorabilia
- Members can now update their latest contact information
- From 1 Apr – 30 Jun each year, parents can now download the P1 Phase 2A(1) Letter via the membership portal
- We also have a comprehensive FAQ section to answer most of the questions you might have
- Existing members will receive an email to access the membership portal for the first time.

If you are not a member, click the button below to join the CHIJ Alumni.
Join the CHIJ Alumni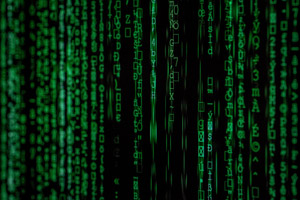 Personal Data Protection Act (PDPA) for NRIC/FIN numbers
1 Sep 2019
In line with PDPA, from 1 September 2019, the CHIJ Alumni will only be collecting the last 4 characters of NRIC. i.e. 3 digits and alphabet for membership registration.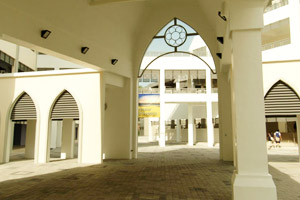 Welcome to the CHIJ Alumni
'It only takes a spark, to get a fire going, And soon all those around. will warm up in its glowing.'

This is how it is with the IJ alumni that you have chosen to be a part of.

We have all, in a way unique to each of us, been invigorated by the IJ spirit. Leaving school should not have to mean that this fire dies. The laughter, the love and the sharing, these memories that defined your days at IJ, remain our commitment to you as the CHIJ Alumni body.

Here, at the CHIJ Alumni Association, each one of us can continue to come together as that family with ties that cannot be broken, no matter how old we get or how far we go because our hearts remain with the school that made us who we are today.
More about the CHIJ Alumni
P1 Phase 2A(1) letter
Download is available only from 1 Apr – 30 Jun each year.
Members can now download the P1 Phase 2A(1) letter under the My Membership Profile page from 1 Apr – 30 Jun each year. For more information, please view the FAQs.
My Membership Profile