Sr Elizabeth Browne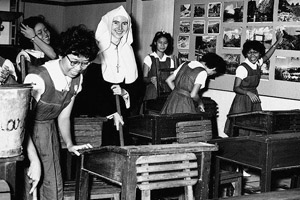 We, past pupils of CHIJ (Victoria Street) remember Sr Elizabeth with great fondness and regard. She was our principal who possessed a sharp wit, a gentle and kind demeanour, oftentimes with a twinkle in her eye.
Our schoolgirl shenanigans must have caused her many a sleepless night, but never once did she stop to encourage us, believe in us and allow us to develop into young women of character.
We feel privileged to have been educated under her leadership and grateful our paths have crossed.
We offer our prayers for Sr Elizabeth; now that she has been called home to rest in the arms of our Lord Jesus after so many years of faithful service.
CHIJ Alumni
Singapore
5 June 2022
Read letter from Sr Maria (3 Jun 2022) >
Details for live stream:
When: Jul 30, 2022 04:00 PM Singapore
Topic: Sr Elizabeth's Memorial Mass
Please click the link below to join the webinar:
https://moe-singapore.zoom.us/j/81339701066
Passcode: chij2022
Memorial service for Sr Elizabeth Browne
Date of Memorial Service: 30 July
Time: 4pm onwards
RSVP deadline: 16 July, midnight
RSVP via Google link: https://forms.gle/fUa5RftxuhFaM9pH9