2018 News & Events - ARCHIVE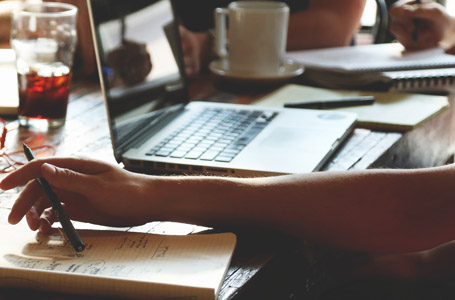 "Connecting IJ to the world" work attachment
30 Aug 2018
This work attachment is for our CHIJ (Toa Payoh) Secondary 3 girls from 5 - 9 Nov 2018. If you are able to help and give our IJ girls the invaluable experience, please email Mrs Irene Tan This email address is being protected from spambots. You need JavaScript enabled to view it. by 1Sep 2018.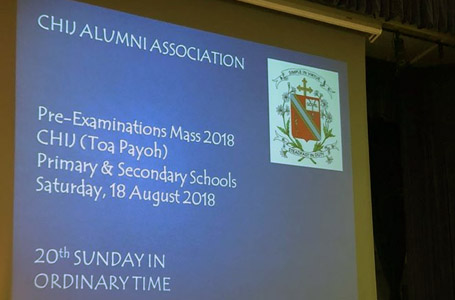 Pre-Exams Mass 2018
24 Aug 2018
As part of our annual tradition, the CHIJ Alumni organises a Pre-Exams Mass for our CHIJ Primary and Secondary girls who are preparing to sit for the national examinations. We wish them all the best and seek God's blessings for each and every one of our girls.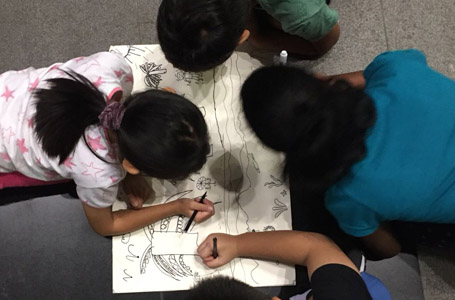 IJHCC - Art Outreach
7 Jul 2018
This year, CHIJ Alumni Association organized the annual event for children from IJHCC, in conjunction with Art Outreach on 7 June 2018. Our CHIJ Alumni volunteers accompanied 32 children from IJHCC on an "Art in Transit" learning journey to appreciate Art pieces exhibited at Stadium, Nicoll Highway and Promenade MRT stations. The children demonstrated their learnings through collaborating with their team mates on their own art pieces.

Based on the children's feedback, the highlight was the Art Explorers Workshop at Art Outreach's premises at Gillman Barracks, where they had the opportunity to express their creativity by designing their own tote bags. Check out the impressive tote bag designs! To end off the day, Art Outreach made arrangements for the children to have creative play at Playeum next door.

Big thanks to our volunteers for spending the day with the IJHCC children, to our sponsors for their generous donations and Art Outreach for making this event a big success.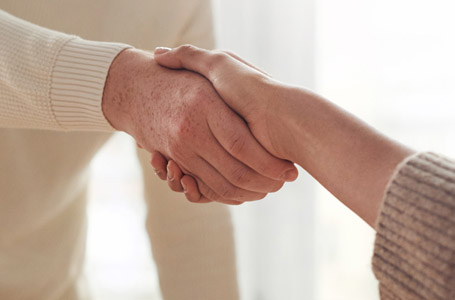 Career Seminar 2018
11 Apr 2018
Every year, the IJ Alumni organises a Career Seminar for our graduating class of students. The Career Seminar aims to provide our students an opportunity to explore different career options and gain an understanding of various industries through an interactive and informal session with our volunteers from any professions/industries. It is an important time for them as they consider their career paths and the decisions that they have to make as they move to the next phase of their tertiary education.

This year's career seminar has been scheduled for 11 Apr (Wed) 2018. We are looking for volunteers who are keen to share about their industry/profession and provide valuable insights with our graduating class of 2017. Any industries/profession welcomed!

If you would like to be a volunteer at the seminar please contact us at This email address is being protected from spambots. You need JavaScript enabled to view it. with the following details:

Name
Profession/Industry
Contact Details

Thank you and we look forward to seeing you there!
CHIJ Alumni Association AGM 2018
24 Feb 2018
Greetings from the CHIJ Alumni and a blessed new year! We wish to invite you to our first event of 2018. This will be a thanksgiving mass followed by our alumni AGM to be held at CHIJ Lor 1 Toa Payoh.

We are also holding an appreciation brunch for all who have helped us by both volunteering their time as well as with their generous contributions. As it is still the Chinese New Year period, we will also be presenting gifts to our IJ sisters.

At the AGM, we will be outlining the events that we have planned for 2018 and hope that you could continue to support us.

Date: 24 Feb 2018
Time:
1000 Mass CHIJ Chapel
1045 Brunch Bentinck Room CHIJ Sec level 1
1115 AGM Bentinck Room

For catering purposes please confirm your attendance by email to This email address is being protected from spambots. You need JavaScript enabled to view it.
As this is an open event please bring along your ij friend/friends (please note that you can join us at any juncture!).

Looking forward to seeing you.

Regards
Claire
President
CHIJ Alumni